Sustainability governance and resources
Responsible investing is (truly) part of Thematics Asset Management's DNA
Responsible investing is fully integrated across Thematics' business lines and strategic leadership priorities, from the investment team to client portfolio management, to operations support, and senior management. In order to meet our ambitions and commitment to support our clients' demand for sustainable thematic investments, we have structured our responsible investing in a unique way we see fit and effective. This is also in line with our core belief that responsible investing is an integral part of our investment philosophy and thinking.
Our model for operationalizing our responsible investing framework is 'portfolio manager driven-specialist supported'. It means that Portfolio managers own the implementation of RI approaches in each thematic strategy.
They ensure that all ESG-related strategies applicable at each stage of the investment process is followed, from exclusion to ESG integration (they perform their own ESG research and scoring), engagement, and voting. They are supported by our team of ESG and climate specialists who provide the expert guidance and support.
The Responsible Investment Committee
Thematics AM's Responsible Investment Policy governs the way its responsible investment framework is integrated into its investment process. This applies to all investment products of the company. Governance and oversight is within the remit of the Responsible Investment Committee composed of the Chief Investment Officer, Head of Responsible Investing, ESG Specialist, Climate Specialist, and Head of Compliance. The implementation of all responsible investment strategies across the investment process is carried out by each portfolio manager.
The Responsible Investment Committee is responsible for:
• Defining: As the governing body of its responsible investing framework, the RI Committee is in charge of defining the organization's responsible investment objectives, strategy, and targets. To support this endeavor, the Committee also assesses necessary investment on capability building, including ESG and climate-focused trainings and other resourcing needs. An annual review is carried out to identify areas for refinement and enhancement integrating regulatory and market developments.
• Monitoring: The Committee meets on a quarterly basis to review the ESG policy implementation across all investment strategies. It also assesses the performance of the funds across all ESG and climate metrics and identify any appropriate actions to be taken - divestment, position re-sizing or targeted engagement with relevant investee companies.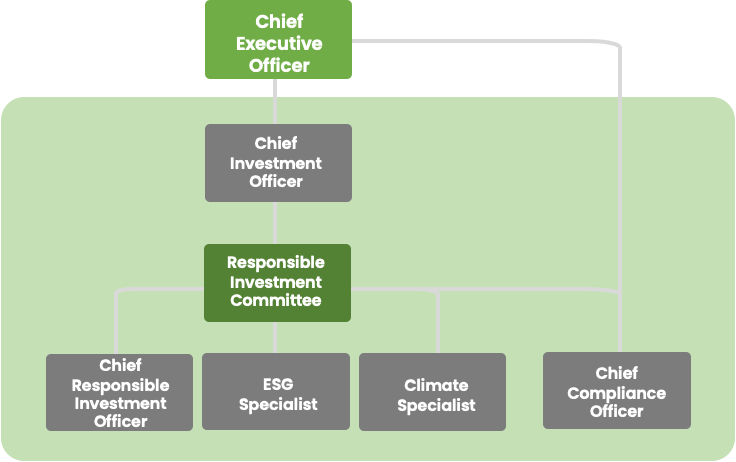 Data and Tools
Performance measurement and transparency
As part of our commitment to provide our stakeholders with transparent and consisten sustainability performance data, Thematics AM provides extra-financial (sustainability data) on all its strategies. On a monthly basis, through the funds' 'Monthly Factsheet', the following information is presented:
· the fund's contributions to the Environmental and Social objectives of the Sustainable Development Goals (UN-SDG), as assed by third party data provider ISS research. Each company in the portfolio is assessed based on its percentage of revenues derived from SDG contributive, neutral, or obstructive activities;
· the fund's exposure to ESG controversies, based on third-party data provider Sustainalytics, as a means to demonstrate how it ensures that the fund does not do any significant harm;
· weighted average carbon intensity and temperature alignment.
On an annual basis, through the 'Being Responsible Report' and funds' Impact Report, Thematics AM provides the following:
· the fund's achievement of its sustainable investment objectives using the Investment Manager's proprietary sustainable outcome measurement framework;
· its performance across the mandatory Principal Adverse Impact indicators arketing, and risk and compliance.
Our responsible team
Arnaud Bisschop
Arnaud is a co-founder of Thematics Asset Management, Deputy CEO and the Co-Manager of the Thematics Water strategy. Prior to joining the Natixis Investment Managers group, he was the Co-lead manager of Pictet Asset Management's Water strategy. He joined Pictet in November 2007.
Arnaud began his career as a consultant in Ernst&Young Sustainability practice in Paris, before gaining experience of French Water utilities at Suez.
Arnaud holds MSc in Engineering and Economics from Ecole Polytechnique (X-96) and Ecole Nationale du Genie Rural, des Eaux et des Forets (ENGREF-01)
Guillaume Gosselin
Guillaume joined Thematics AM in 2022 as a Climate Specialist. He began his career in 2015, within Lyxor Asset Management in Hong Kong, as a Hedge Fund Analyst covering Asian strategies. He joined Natixis Investment Managers International in 2018, as a Senior Portfolio Analyst and then became an ESG & Climate Specialist within Natixis Investment Managers Solutions.
Guillaume holds Master's degrees from ESSEC and from CENTRUM Graduate Business School.
Maila Beniera
Maila Beniera is the in-house ESG Specialist in-charge of Thematics' sustainable and responsible investing strategy and implementation. She brings with her over 15 years of experience in the sustainable investment research, having worked for major sustainability research agencies, including ISS and MSCI ESG Research. Prior to joining the company in January 2021, she was head of research at V.E, the ESG research arm of Moody's, where she headed a portfolio of ESG products focused on climate risks, screening, norms-based assessment, sovereign, SDG and other thematic-based sustainability research. Before starting a career in ESG, she worked for JP Morgan and Manulife. Maila obtained her master's in Security and Development at King's College London and her bachelor's degree in Biological Sciences from West Visayas University in the Philippines.
Subscribe to our newsletter
Receive everything the team's working on directly in your inbox.
Contact us
Our team is here to provide you with personalized and outstanding service.